Marijuana causes inflammation in the eyes. Have you ever thought why weed causes redness in the eyes? This question sparks in the minds of CBD consumers lately, and we are here to dig who is the real culprit.
Redness in the eyes has always been a traditional way to tell that a person had smoked weed of some kind. However, whatever a person consumes such as a vape, edibles, smoking, dabbing, etc., your eyes will turn red due to the THC effects. Redness depends upon the quality and quantity of cannabis a person consumes.
Why marijuana makes red eyes?
You may get redness in the eyes due to seasonal allergies and fatigue. However, for those of you who get redness in the eyes due to smoking weed, your concern is just right. For your surprise, weed doesn't cause redness in your eyes due to irritation. Rather, it is how your body reacts when a psychoactive element of marijuana work in your body system. This psychoactive element in marijuana is THC.
Marijuana has several psychoactive elements, which are commonly known as cannabinoids. Each element can cast different effects on the consumer. Among all ingredients, THC also known as Tetrahydrocannabinol, is one of the most arguable psychoactive cannabinoids in marijuana. THC has a similar effect in mind and body, just as anandamide does. Anandamide is a fatty acid which binds to the same receptor as THC does. The main working of anandamide is it lowers the blood pressure by dilating blood vessels. THC does the same job — marijuana which has more THC components, shoot the blood into eyes.
Nowadays, drug dealers are creating potent versions containing less CBD and more THC, which enables them to sell small quantities at a high price. That is why you are more likely to get red eyes. If you use hemp-derived CBD, then there is no chance your eyes would get read. It is THC, which is highly responsible for this effect and more importantly, those drug dealers who are using its higher quantity in smaller portions.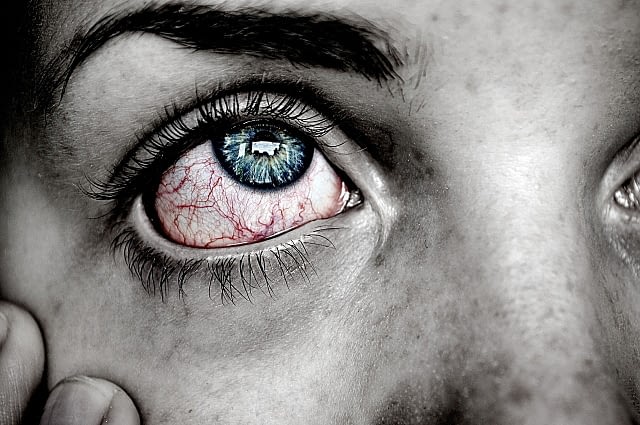 Reasons for red eyes?
The most apparent reason for redness in the eyes is THC. THC interacts with CB1, which is a receptor in our body and because such receptors are abundant in our eyes that is why our eyes get redness.
These receptors signals to lower our blood pressure. Therefore, intraocular pressure in our eyes get lower, and vessels in our eyes open wide, which results in blood rushing toward the eyes and ultimately causes redness.
Another reason for this includes allergic reactions that people get by smoking. This type of redness is due to the sensitivity of the people toward a particular kind of smoke. Thus, switching to a different kind of smoke can solve this problem. Some people can also get allergy from cannabis too.
Great news! People who have an eye disease like Glaucoma can recover from it by using THC. Glaucoma is due to high blood pressure and since THC lowers the blood pressure so it may help people recover from such disease.
Conclusion
CBD found in weed is not responsible for redness in the eyes, but the element called THC in weed is the cause of bloodshot in the eyes. That is why when we weed smoke, our eyes get inflammation. CBD products free from THC components cannot cause redness in the eyes.
However, if you still find your eyes get red after using a CBD product, then it would be due to high levels of THC in that CBD product. Therefore, do not get worried about getting redness in eyes while using a CBD product.